Matt Justice Bio
Florida political consultant Matt Justice is the owner of 2 companies: Reliant Florida LLC (a political consulting firm based in Florida) and Republic Polling INC (a national polling company based in Washington D.C.) The firm's employees are uniquely qualified within a specific scope of the industry including: graphic design, video production, legislative correspondence, and journalism. In the political sector Justice's firm has been contracted to oversee scores of campaign organizations and ballot initiatives, and is recognized nationally as a reputable source for political consulting & polling. Matt Justice is also a statewide business leader with decades of civic service supporting economic growth and success throughout Florida.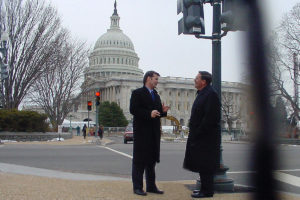 In Duval County, Justice is currently a Jacksonville Chamber of Commerce Trustee and promotes business friendly leadership within local & state government through his affiliation with JAXBIZ, the Chamber's political organization that endorses and supports pro-business candidates.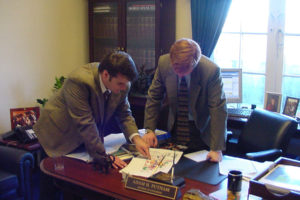 In Clay County, Justice previously served the Chamber as Vice President of Government Affairs, and also on the Board of Directors. Additionally Justice was elected Chairman of the Government Affairs Joint Committee over both Chamber and Economic Development Councils. In that joint capacity, Justice led lobbying teams to Tallahassee and Washington for several years promoting legislative agendas on Transportation, Education and Economic Development.
In North Florida, Justice was twice appointed to public service from 2001 to 2004. The first appointment to the CAC of North Florida TPO which is the regional transportation planning agency for Clay, Duval, Nassau & St Johns Counties. The 2nd appointment: as Commissioner on the Transportation Advisory Commission, for which he was re-appointed to a second term in 2003.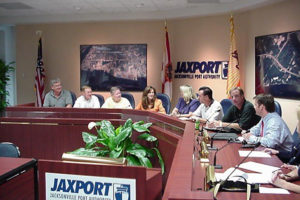 In 2004 Justice was selected
for a position on the Board of Governors at Duval County's oldest civic organization: The Transportation Club of Jacksonville. Established in 1913 the association represents industry executives from North Florida's trucking, rail, ocean, and airfreight companies. In 2005 Justice was elected President, and chaired its meetings held at JaxPort on Tallyrand. In 2006 he received the organization's highest award: Transportation Professional of the Year.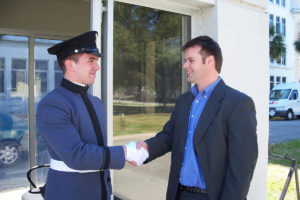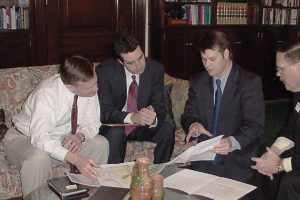 Nationally, Justice has been invited to speak at various universities on the topic of political communications. He has spoken at The Citadel, The University of Florida College of Journalism, Santa Fe College, and to aviation students in flight school.
Justice's company has a national presence and is currently active in Florida, Washington D.C., New York and Missouri.
Internationally, Justice served as Chairman of International Relations for the YRNF. In the 2-year term Justice conducted business with British Parliament members & staff, international media, and dignitaries & professionals from Africa, Europe & South America.
Justice believes that strong relationships are of paramount importance. "I believe true friends are the cornerstone of success. One key ingredient to my relationships has always been a personal pledge to give people my word and keep my promises," said Justice